Overview
In a computer or communication device,
information is
embodied in some
physical
system; the capabilities of such an information processing device are derived from its physical properties. It is known that if the device is quantum mechanical, i.e., it exploits the physical laws of quantum mechanics, then its capabilities can exceed those of classical devices. Taking a
theoretical physics
approach, our group investigates
solid-state systems for quantum information processing
. In particular, we investigate single electron spin dynamics and coherence in semiconductor and carbon nanostructores (quantum dots, quantum wires, etc.) as well as superconducting qubits. Further research areas include light-matter interactions between solid-state qubits and photons, optical cavities and the use of cavity quantum electrodynamics for quantum information processing, and the production, dynamics, and characterization of entanglement in solid-state systems. We are also working on the theory of quantum computation and quantum information. (
read more
) (
deutsch
)
&nbsp Contact
&nbsp Guido.Burkard@uni-konstanz.de
&nbsp Department of Physics &nbsp personal details, contact details

&nbsp news:

&nbsp Dies academicus 2013, 18 October 2013:
&nbsp Andor Kormanyos receives Nano Prize of the Universitätsgesellschaft Konstanz e.V. for
&nbsp his distinguished achievements in the research of nanotechnology (shared with S. Landsmann)
&nbsp see video

&nbsp events:

&nbsp Second school and conference on spin-based quantum information processing
&nbsp Konstanz, Germany, August 18-21, 2014
&nbsp


&nbsp research highlights:

&nbsp Coherent Adiabatic Spin Control in the Presence of Charge Noise Using Tailored Pulses
&nbsp Hugo Ribeiro1, Guido Burkard1, J. R. Petta2, H. Lu3, and A. C. Gossard3
&nbsp 1Univ. Konstanz, 2Princeton Univ., 3UC Santa Barbara
&nbsp Phys. Rev. Lett. 110, 086804 (2013)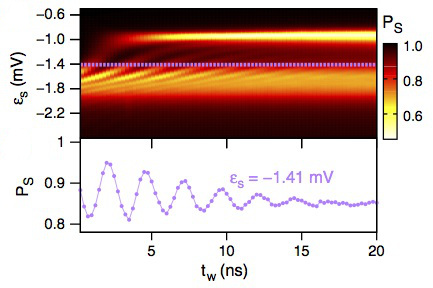 &nbsp Spin-orbit induced strong coupling of a single spin to a nanomechanical resonator
&nbsp András Pályi1,2, P. R. Struck1, Mark Rudner3, Karsten Flensberg3,4, Guido Burkard1
&nbsp 1Univ. Konstanz, 2E&oumltv&oumls Univ. Budapest, 3Harvard Univ.,4Univ. Copenhagen
&nbsp Phys. Rev. Lett. 108, 206811 (2012) &nbsp See accompanying feature in Physics Focus.